b.b home passion carpets
With the new collection of wallpaper, the end customer can set everything appropriately and harmoniously colored curtain and color to the carpet.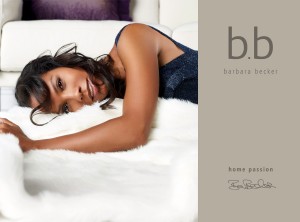 The carpet collection draws on the ideas from the wallpaper collection and pursuing them further. Barbara Becker has focus on the materials and the choice of colors.
The selection of design, material and color allows the use of carpet collection also independent of the overall concept.
The collections are an ideal complement and together form a perfect symbiosis in the living room design.
BALANCE

The rug Balance stands for a clear design and simple elegance, which is reflected in its ethnic patterns and earthy colors.

FLAIR

With her sense of current fashion Barbara Becker has developed this series a new carpet trend that creates the gentle luxury for all the senses.

TOUCH

Touch stands out for its innovative soft yarn, which makes this rug an experience of the senses. The colors are matched in a fine mottling perfectly and give tranquility and elegance.

EMOTION

The timeless elegance of this shaggy carpet by Barbara Becker evokes feelings of harmony, relaxation and absolute tranquility.

CHALET

Chalet of today blends the rough with the gentle, creates modern spaces that are not only comfortable but quiet and cozy. Inspired by the mountains and a new sense of home Barbara Becker has developed this trendy wool carpets.
IN – AND OUTDOOR RUG COLLECTION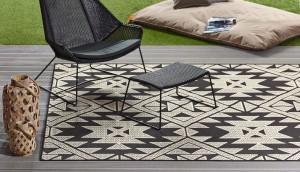 As an innovation and supplement to the existing and successful b.b home passion concept, Barbara Becker has now created a rug suitable for both, indoor and outdoor areas, in collaboration with Reinkemeier.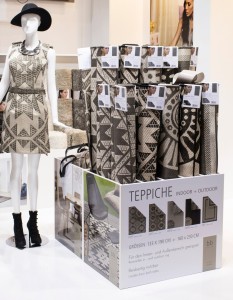 The indoor and outdoor rugs look equally great when placed outside or under the table in your living or dining room.
"Such a multifunctional rug needs to be chic and durable at the same time", explains Barbara Becker. These easy-care, durable pieces made of special carpet fibers are resistant to light, water and dirt.
The rugs Loft and Patio are available in two color combinations: taupe – creme and black -creme. The rug Sky is available in taupe – creme. Due to a special processing, the rugs can be used on both sides, each showing the same color scheme. One rug – two faces.
The rugs are available in three sizes: 133 x 190 cm and 160 x 230 cm – both presented rolled up. The rug with the dimensions 240 x 340 cm will be folded and comes with a handy carrier bag.
Commercially available
The carpet collection b.b passion home from home Reinkemeier-Rietberg is available in many hardware stores and furniture stores.
The photo shoot
Read here the newspaper report to the photo shoot or watch the "making of" for the photo shoot with Barbara Becker.