Floor mats
Keep it clean every day! The new mats collection includes a wide range of indoor and outdoor use and complements the products in the field of interior decoration perfectly.
Floor mats for indoor use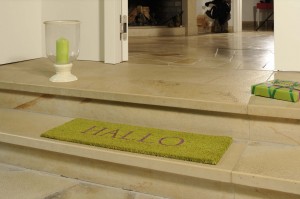 Apartment – hall – kitchen – entrance – terrace – balcony
These indoor mats are specially designed for indoor and covered the intermediate region.
These are mats for fine dirt or dust or to highly absorbent, sometimes even washable floor mats.
Whether at the front door, in the stairwell, in the hallway or in front of the balcony door – all our mats are an eye-catcher, sucking on wet or strip off dirt. To which they are a beautiful fashionable item.
Floor mats for outdoor use
It is weatherproof and waterproof mats that have been specifically designed for outdoor use, to remove, developed by coarse dirt. The virtually indestructible mats are ideal for the non-covered entrance and remove most of the dirt before entering the house.
Whether sun, rain or snow – about our mats always comes with clean shoes into the house.
The outdoor mats, both on the doorstep, in the garden or in front of the garage, but are of course also used in the interior. They beautify any input.
These qualities are included in our range:
rubber mats
all-weather mats
needle felt mats with or without design
cotton mats
coir mats printed and natural
rubber / coconut combinations
mud flap mats
hollander mats
Invalid Displayed Gallery