Rasen Deluxe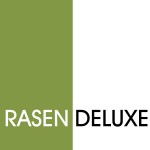 With Rasen Deluxe is the terrace or the balcony to the green oasis.
As soon as the first rays of spring sun come out, the outdoor activities shift to balcony, terrace and in the garden. The green living is all the rage.
GREEN with envy for so many applications:
balcony, terrace, winter garden
playground, camping, catering
hotels, decoration, retail space and many other possibilities …
Detailed information about artificial grass from Rasen Deluxe and an insight into the variety can be found on the following website www.kunstrasen-deluxe.de.
Wow so many opportunities…
Benefits:
always green, even in shady areas
resistant to sunlight
quick to install itself
does not need to be mowed
no water consumption
soft and child-friendly
easy to clean
Maintenance:
Artificial grass requires very little maintenance. All you need is regular brushing with a broom to straighten the fibers. In addition, coarse debris (paper, leaves, branches, etc.) should be removed.