Raffi my home

Inspired by the unique and rich simplicity of nature.
Reinkemeier presentes together with the designer Maarten Vrolijk  the carpet and floor mats collection "Raffi my home". The Dutch designer and his team designed carpets, wallpaper, home decoration, fashion accessories and bicycles.
Its brand Raffi my home is clean, modern designs in subtle but expressive colors that draw their inspiration from nature.
Flat weave carpets

Facet and vision gives the carpet collection by its natural structure a lively character. The carpets are available in sizes 67 x 140cm and 133 x 190cm.

Woven carpets

Rose and landscape are graphite in natural colors and linen held. The inspiration for the designs come from nature. These rugs are available in sizes 67 x 140cm and 133 x 190cm.
Floor mats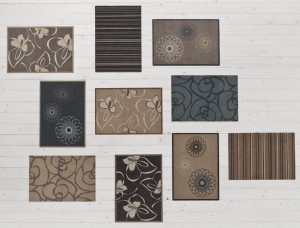 The doormats Velvet Rose, Ray, Lily and Terra Velvet made of durable, stain resistant carpet special thread in size 50 x 70cm.
Matching wallpapers presented by the company A.S. Création.
Making Of: Raffi my home photo shooting
The world has a natural beauty and it is to discover to us and to rediscover. The natural beauty of our world too often remains undetected.
Raffi is the global lifestyle brand, the refined with their natural styles, presented clean and modern.
Raffi captures distinctive colors, materials and shapes that find their inspiration in the nature of nature, especially in flowers. Raffi is a lifestyle brand with exclusivity and modern chic, which responds with its wonderful naivety the child in all of us.
Maarten Vrolijk is known internationally and his designs are part of the permanent exhibitions in numerous renowned museums such as the Stedelijk Museum in Amsterdam and the Museum of Modern Art in New York.